Family Portraits & Family Gatherings
My wife and I both have full time careers, as do our 11 year old twins. Both of our parents are divorced, and we both have family members who live out of town. Honestly, it's next to impossible for our entire family to come together for a family portrait.
Even if by some miracle we were all able to get together for a family portrait, it wouldn't turn out as good as I'd like. Someone in the group would have a less than perfect expression, or someone would be absent, or someone's attire would be all wrong. And, even if it did turn out perfect, because of the divorces, not everyone would want to hang the final portrait in their homes.
My solution? I call them Family Gatherings.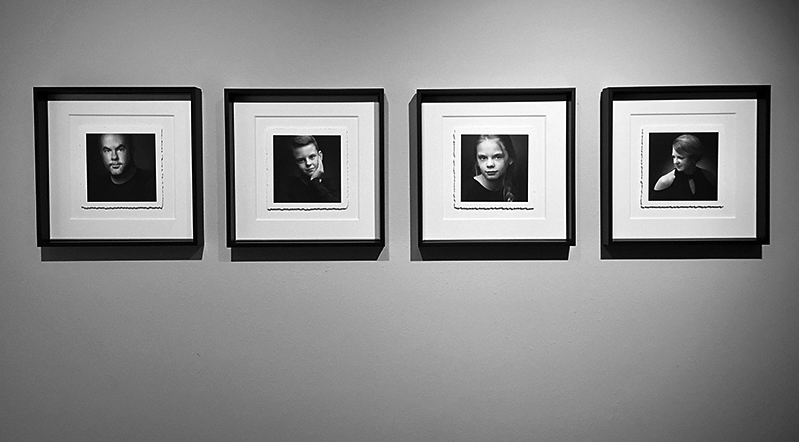 Family Gatherings:
The concept/solution is so simple.
Individual framed B&W watercolor portraits, hung side by side to create a new, clean and contemporary style of family portrait. Single Portrait Sessions accommodate busy schedules and allow for customizable combinations to make everyone happy.
The final result? A contemporary and clean individual artwork.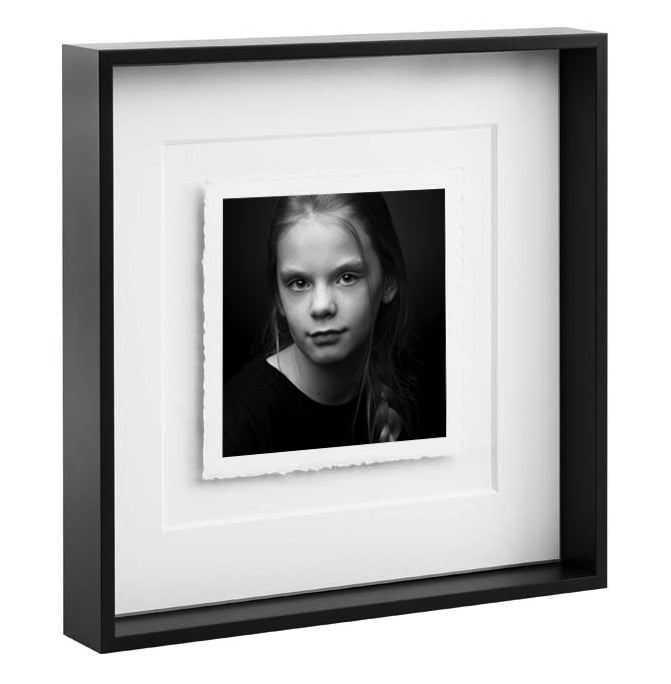 The Style:

Lets look at the four portraits above. What are the obvious similarities?
First, they are all black and white. Actually, that's not quite true. You can't really tell on the site, but I have added, ever so slightly, a slight warmth to the images. Not quite a full blown sepia, but just a hint.
The second most obvious similarity for me is the fact that all four portraits are headshots. Not so obvious is that I have purposefully cut off the tops of the heads. This allows me to compose the face for optimum impact. It also creates a more contemporary feel, as opposed to a more traditional feel when "the rules" are followed and the entire head is shown.
Third, everyone is wearing black.
The background is also back with a very delicate glow. This glow is adjusted to highlight the subject's features. My wife's hair is so beautifully long, but here she had it up as we were heading out for a date night dinner just after her session. I increased the glow on the background to emphasize this, and to draw attention to the features of her dress.
What's not so obvious is the lighting technique I'm using. It's not Rembrandt Lighting, which is so common in portraiture. This is a lighting style called Paramount Lighting (aka Butterfly Lighting), and I love using it, especially when I'm creating black and white headshots.
Also, not so terribly obvious; each portrait above represents an individual Single Portrait Session, and this is the best portrait selected from the session.
Unique Benefits.
First, as mentioned above, the entire family does not need to be photographed during the same appointment time. Each family member is photographed individually when their schedules allow, even if their schedule allows one or two years later.
Second, photographing each member of a family individually allows for the creation of unique Family Gatherings. In the case of a divorced family, individual portrait sessions allow for the creation of custom Family Gatherings for each home.
You can change out individual portraits out every few years.
Just added a new family pet? Bring the pet into the studio, and have them added to your Family Gathering.
Each family member is photographed individually, allowing for the best portrait to be selected, as opposed to finding a group shot where everyone looks their best.
Lastly, and most importantly, is the enjoyment you'll receive each and every day from an actual portrait on your wall. Each Single Portrait Session includes your framed watercolor print. It's great to have your images on your device, but once you turn them off and place them down, your enjoyment ends.