Advice On How To Dress For A Family Portrait
Houston Family Portrait Photographer Aric C. Hoek is committed to giving his clients the finest artwork possible by educating his clients as to what they can do themselves to achieve the best results.
Your family is the focal point of our work, therefore it is of utmost importance that clothing choices complement and not distract from the overall balance and focus.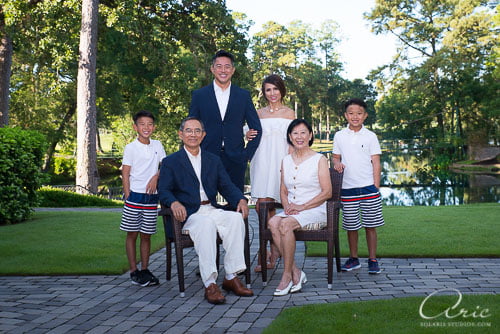 Family portrait sessions takenoutdoors require more thought as to clothing choices. It is at times best to pick your location and background first so the sitters clothing will complement the scene. If you are doing a Color Study, keep your choices subtle and solid with everyone in the portrait wearing the same shade and "color family".
Avoid mixtures of light and dark tones together as this creates "visual confusion". Work for balance, harmony and color coordination.
Because children are most comfortable in familiar environments, we prefer photographing them at home where they're surrounded by the people and possessions they love.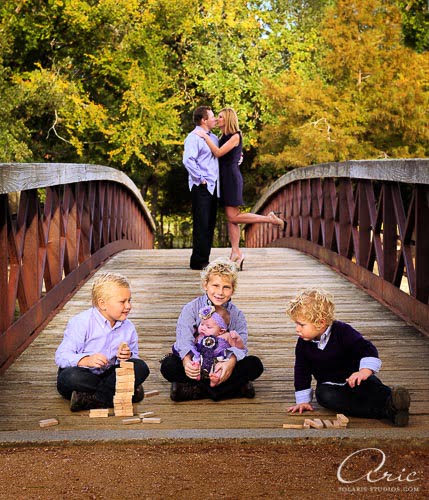 We recommend that adults wear long or three-quarter length sleeves. Youthful subjects can wear strapless or sun dresses, but these are best avoided in group portraits. Select clothing that will be flattering when seated, such as a long flared skirt instead of a mini-skirt.
Patterns in clothing for the most part should be avoided.
Your hands will appear in your portrait. Nail polish and French manicured are best.
Please wear your usual make-up. Bring all of your make-up with you for touch-ups as needed. Remember to keep jewelry simple and avoid wearing a watch during the session. Styling your hair at home is the most convenient, but feel free to bring what's needed for touch-ups.
While children love to wear sneakers and tennis shoes, our advice is to avoid them. They often have splashes of color which can be distracting. Chose footwear for your children other than sneakers and your finished portrait will have a higher perceived value.
White socks really need to be avoided. If you are sitting in your portrait, your pant legs will slightly rise to expose your socks. If your socks are white, they will stick out like a sore thumb in your finished portrait, causing the views gaze to be pulled from the subjects faces.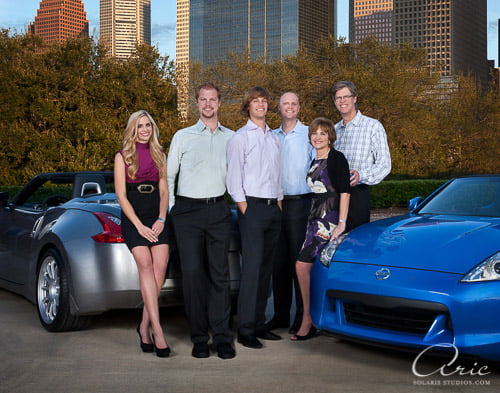 We know that great images take time and concentration. Our advice is to pick a style or a mood and focus on it. Too many clothing & background changes leave little time to focus on what truly matters.
Parents of a newborn, who want their baby photographed without a diaper, will want to be prepared for accidents and bring extra slacks or a skirt, wipes and diapers. Bring food for your children in order to keep everyone in good moods.
The "window of opportunity" with children is short. All children have different and unique personalities. We suggest dividing the children into their own portrait in order to capture each child's personality. At certain stages, incorporating a parent into the sitting helps stabilize the child and allows each child to be most relaxed and looking his or her best. When doing individual portraits during a group session, we suggest an adult come along and watch the children outside of the studio in order to help capture great images of those being photographed at that time. Group portraits of young children without parents in it for stabilization are not recommended.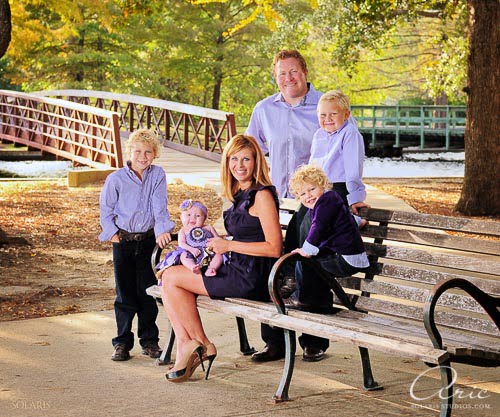 Please resist the urge to tell your child to smile or insist they be on their best behavior as this often backfires. Simply say "we are having our portrait taken and it will be fun."
Remember, pre-planning is the best way to put your mind at ease that all will go well on the day of your sitting!
Author: Aric Hoek
Google
Houston Family Portrait Photographer
Solaris Studios, Inc.
10407 Thornhurn Court
Houston, Tx. 77065
281-477-7222