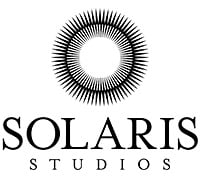 Welcome. My name is Aric, and I'm the proud owner and head photographer here at Solaris Studios. We consist of a team of three highly experienced, creative, and most importantly passionate wedding photographers.
I care deeply about the photography my team and I deliver, and I believe everyone (and I mean everyone) should enjoy great photographs of their wedding.
My eye for the business of wedding photography is just as important to me as my artistic eye, which causes me to get a bit wordy. Please feel free to scroll down to quickly find a link to our pricing structure.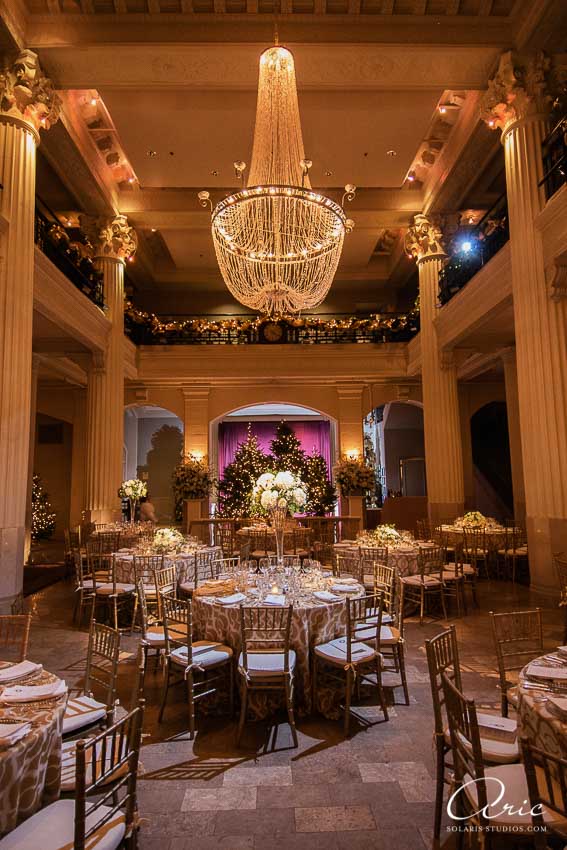 I imagine couples who place the photography of their wedding as a top priority are looking for a passionate and experienced photographer. I also imagine these couples frustrated, visiting website after website, only to find portfolios accompanied with the least amount of information possible, promising pricing to those only willing to fill out a contact form, which ultimately provides no additional insight into the artist's passion.
I imagine couples feel like a number once presented with prefabricated packages.
I've written this page not only to show you the quality of my past delivered artwork, but also to show you examples of how my customers have utilized my imagination for the creation of unique wedding photography pacakages which you have to read to believe.
There are some simple things every couple can do to help ensure the best photographs are taken at their wedding. Read on and not only will you learn these ideas, but I'll show you how to leverage time to save money when reserving a wedding vendor's services.
For those who read this page in it's entirety, I think you'll find you've found a team of photographic artist which you'll want to place at the top of your list of potential wedding photographers.
My team and I are the right choice. Our services are first come, first served.
Ready? Then lets get started and head down the rabbit hole together. And if you have any additional questions, please fill out my contact page and I'll be happy to assist you in any way I can.
---
---
---
---
---
Wedding Photography Pricing & Packages
Attention to detail. Creativity. Prompt. Professionalism. Discrete. Timely delivery.
Up to three photographers.
Hiring a professional can be expensive. Hiring an amateur can be even more expensive."
-Author Unknown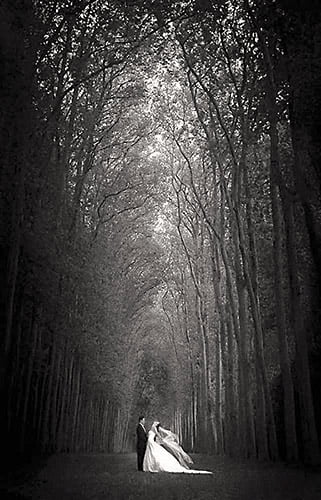 I like to keep things as simple as possible.
At Solaris Studios we offer only one package. This allows us to set a minimum purchase price while creating the flexibility for customers to add additional services and deliverables based upon their individual needs.
Select our minimum purchase package, or create your own.
Or, allow me to create a dream package which will far exceed your imagination.
You may be asking yourself what a wedding photographer could provide which would "far exceed your imagination". After all, it's usually just hyperbole when someone says they can exceed your imagination.
Read on and allow me give you an example or two…
First, lets look at what's included with the Solaris Wedding Photography Package.
The Solaris Wedding Photography Package – $1795
A gift registry. Deposits into which are applied to your balance or other services and products.
Up to 6 hours of consecutive wedding day coverage.
Professional editing of your wedding day images.
An online gallery of your wedding day images.
10% off all purchases made in your online wedding gallery for the first week.
Guaranteed delivery of your online wedding gallery in 6 weeks or less, or your money back.
That's a great starting package and a great price. A gift private registry. Your wedding is professionally photographed, edited and placed online. Guaranteed delivery in six weeks. Choose to purchase anything from digital files to wedding albums, all from within your online gallery, and for the first week all products in your online wedding gallery are 10% off.
At this price, who is your wedding photographed by? Aric or an Associate? If I'm available, then I will be happy to photograph your wedding. If you find I'm already booked on your desired date, then Associate availability will be reviewed.
Did you notice we're not forcing you to purchase a wedding album?
My company's wedding photography services are designed so even I would be happy to shop here, and I'm certain I would be frustrated if I were forced to pre-purchase a wedding album without first seeing the photos from my wedding. In fact, I think I would be more assured with my initial purchase knowing my wedding photographer's likelihood to sell me a wedding album was contingent on how well the wedding photos turned out.
Now, the second thing you should notice about our package may not be so obvious.
The package contains 6 hours of consecutive coverage for the photography of your wedding and reception. Deliverables are additional, and are completely customizable. This should create a few questions for you.
First, why six hours? The first thirty minutes are used to photograph the Groom and the Groom's Men. The next hour is spent with the Bride in her ready room. A half hour to photograph the service. And an additional four hours to photograph the reception.
Second, you need to know what deliverables are available and what they cost.
View our sample online wedding gallery to see all of our current available products complete with current pricing.
Remember, your wedding gallery will go live within 6 weeks or we'll refund your money. Additionally, everything in your gallery will be 10% off for the first week after your gallery goes live.
Now lets take a moment and consider something much more intricate.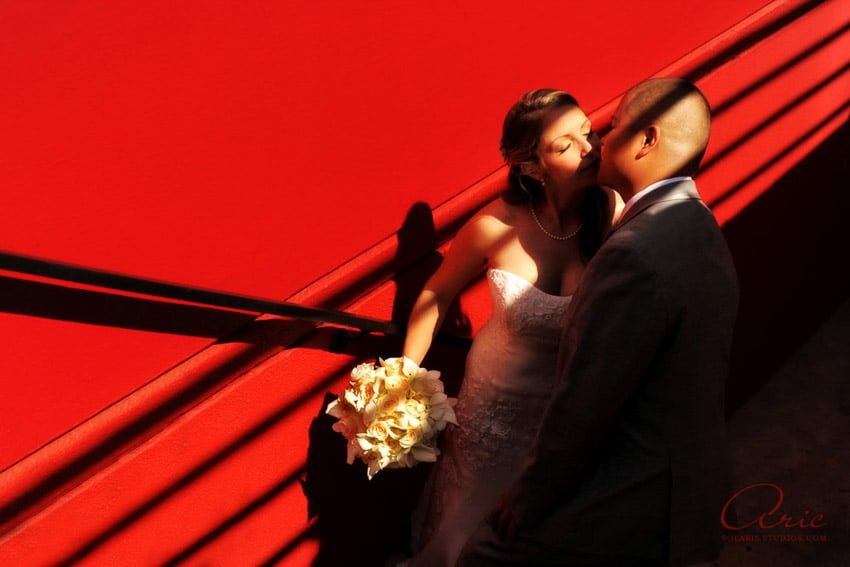 A couple desiring the following coverage and deliverables will appreciate the ability to shape our initial starting package into one more tailored.
Both an Engagement and Bridal Session are desired. She would like to have a moderately sized framed enlargement of her bridal portrait on display at the entrance of their reception hall to greet their guests as they arrive.
Save the date cards are requested, one for each couple.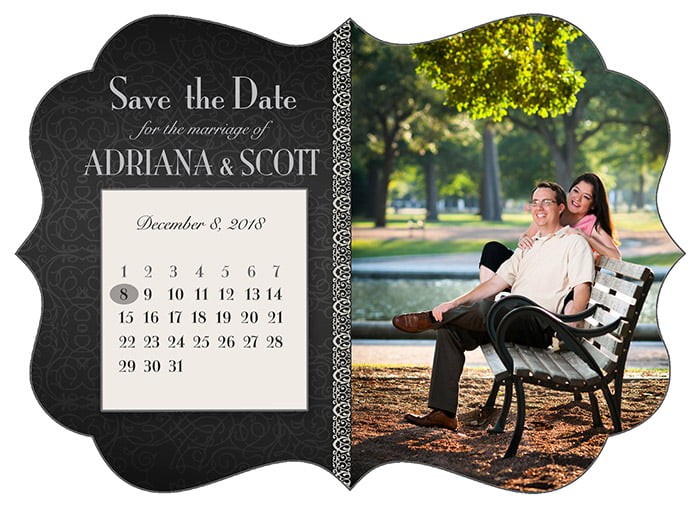 Their not interested in a large framed engagement portrait. Instead, in a semi-circle surrounding their guest book (which I am to create using images from their engagement session), they would like to display three to five smaller framed 8x10s from their engagement session. On the back of each frame should be the name of the person whom the portrait is to be gifted to at the end of the reception.
On the day of the wedding the Groom is getting ready at his hotel room with his Groom's Men. A large spacious luxury shuttle has been reserved to take the men to the church. They would like coverage of the men getting ready and in the shuttle.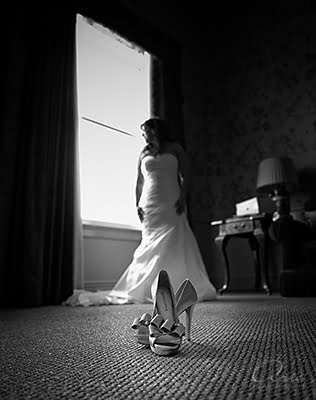 Meanwhile, at the same time, the Bride and her Bride's Maids are getting ready at the church. This would require a second photographer added to their wedding package.
Sometime before the ceremony, the Best Man and Maid of Honor will hand deliver personal letters to the Bride and Groom which the couple have written to each other, which are of course to be read simultaneously.
A few minutes later the couple will enjoy a brief and intimate "first look" which will need to be discreetly photographed.
The couple would like a photographer located at the front of the church to capture the Groom's expression as the Bride walks down the isle with her father.
At this point two photographers would be enough, but the reception will have over 500 people in attendance. In order to make sure no moments are missed, a third photographer is now required.
Some additional unique events are added during the reception to spice things up and keep the guests engaged. At 8pm the groom will be opening up and sharing a fine box of cigars. And at 9pm the bride and groom will share a special case of wine for their guests to enjoy which comes from the region where they plan to spend their honeymoon together.
Once the wedding is concluded, the married couple would like the following products delivered:
The edited digital negatives from both the Engagement and Bridal Session. Additionally, they would like their favorites to be retouched to perfection.
The professionally edited digital wedding negatives from all three wedding photographers.
Our largest wedding album, custom designed, with additional images and pages. Each image to be retouched to perfection.
A smaller duplicate wedding album to give as a gift to the Bride's parents.
A smaller duplicate wedding album to give as a gift to the Groom's parents.
Two framed 20×24 prints of their favorite wedding day images to hang in their home.
250 "Thank You" cards using the couple's favorite images from their wedding, engagement session, and bridal session, all with return address envelopes, delivered by the time the couple returns from their honeymoon.
A custom designer box filled with one 4×6 of every image from their wedding.
From this example I think you can now understand the benefit of narrowing down your selection of wedding photographers to only those who allow the couple to be in total control when it comes to creating their own personal and unique wedding photography package.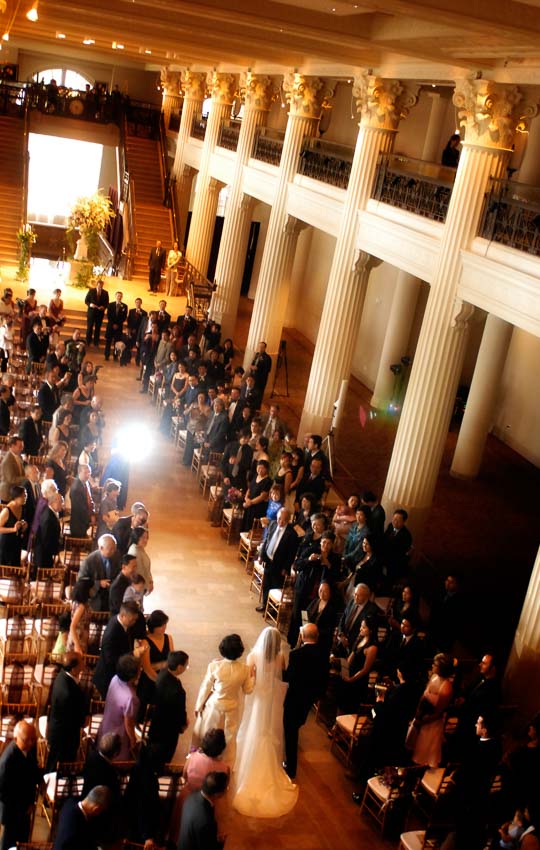 Now, let's take it over the top…
Lets imagine the couple would also like, as a surprise, a duplicate wedding album delivered to each member of their bridal party.
And for those who want the very best, allow me to transform this custom wedding photography package into something which will far exceed your expectations.
I'm going to ask you to use your imagination and follow along with me on a bit of an adventure. Think about the daily enjoyment you would receive, and I do mean daily, if we did the following…
Let's imagine the most amazing Bridal Session. One which would make you unique to all Houston brides.
First, have your florist create an artificial bouquet which would perfectly resemble the one you would carry the day of your wedding.
Next, we catch a plane to Phoenix, rent a van and drive north to Flagstaff. Everyone finds their hotel room. Hours before sunrise, we pile into the van, with your wedding dress and bouquet, and drive to the South Rim of the Grand Canyon for your sunrise bridal session. Your bridal portrait is created as the sun rises. Your 20′ long cathedral veil blowing out over the rim, bathed in the most beautiful, delicate, morning light as if it were alive in flight.
We have lunch, followed by your second bridal session at sunset. Or possibly even your sunset engagement session?
For maximum impact, the final bridal portrait (you can't really call this a photo at this point) is transferred to canvas, creating a quality which transcends the simple piece of paper it's printed on.
Can you see it? Yours to enjoy. Passed down to your son or daughter.
Framed and hung in the entry way of your new home, giving you daily enjoyment, stopping each visitor dead in their tracks, their eyes opening wide as you hear a gasp of delight.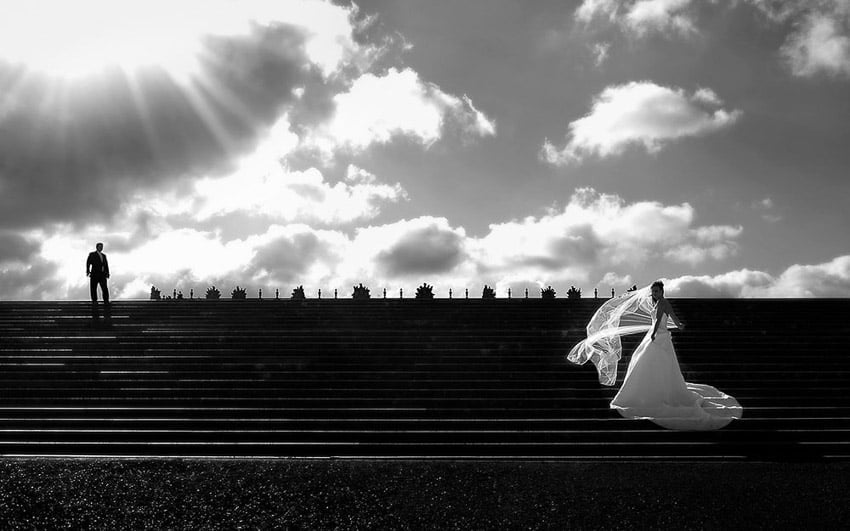 Ready to go EVEN FURTHER down the rabbit hole, where only a very few have gone before?
Here are some portraits I've created for clients who chose to reserve my artistic photographic skills during the first three days of their honeymoon.
—–
In conclusion, I find packages limiting, and as an artist I work hard to avoid limitations, both for myself and my customers.
Are you looking for an artistic wedding photographer with passion, unique vision, style, flexibility, and imagination? My studio and team are here to listen to your needs, and we'll create a custom package based on those needs. And if requested, I'll put my imagination to work and create a unique package and experience for you both which will far exceed your imagination. We'll deliver a product to display in your home which will give you both joy each and every day.
Contact Solaris Studios, and your options become limitless. However, our availability is not.
My team's wedding photography services are first come, first served, and if you've read this far, then we'd love to serve you.
Back To Top Schedule A Consultation Contact
---
---
Do Your Research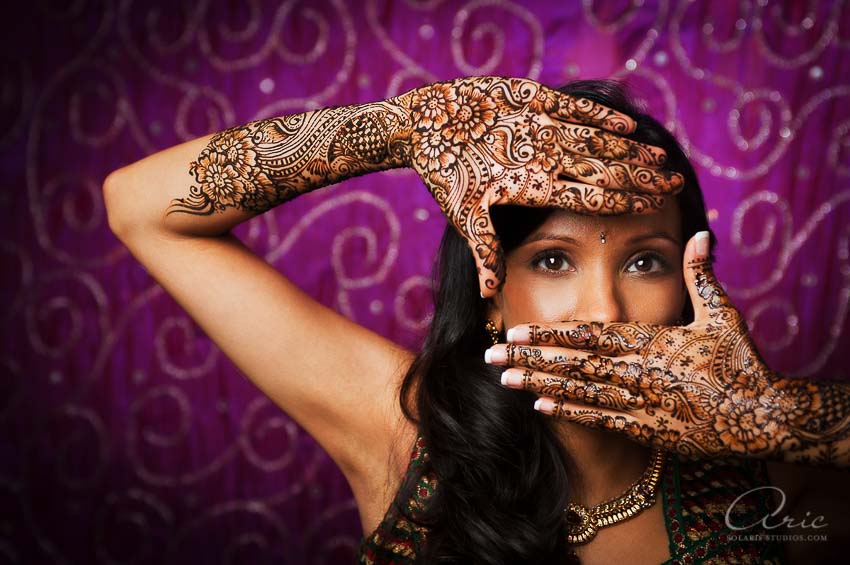 Unlike the work of your other wedding vendors (music, flower arrangements, cake), photographs aren't things you can hear, smell, taste or even see at first — you don't really know what you're getting until after the fact. It reminds me of purchasing life insurance. You make a purchase and receive a promise from an individual to show up at the time and place you need and expect them to preform to the best of their abilities.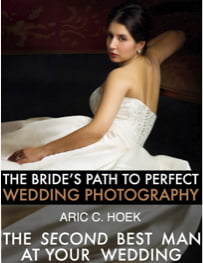 Careful research regarding professional skills, artistic style and personal demeanor are extra-important when choosing your wedding photographer.
Regardless of budget, you're more than likely going to do a large amount of research online. This in my humble opinion is one of your best resources as you will quickly learn the different styles of photography available to you. A good professional photographer should be able to offer a combination or all styles; Photojournalistic, Classical, Fine Art, Edgy/Bold.
Your online research should also allow you to find reviews of past service. Make sure to also stop by the Better Business Bureau's website to check on the rating of the business in question.
When visiting a photographer's website, make sure to check for a blog. When was the last time the photographer made an entry? A stagnate blog may be an indication of a stagnate business.
Does the photography on the site look fresh, or do the images appear dated?
The photography of your wedding will be with you the rest of your days, and will be passed down to your children, and possibly even your children's children, making your final decision very important. So for now find the best you can.
Don't be afraid to look outside of your local area as well. If you live in a city with a high cost of living such as New York or LA, then you might want to check for wedding photographers in cities like Houston with a lower cost of living. You may find the photographer's prices more agreeable and still affordable even with travel expenses.
Back To Top Schedule A Consultation Contact
---
---
Making First Contact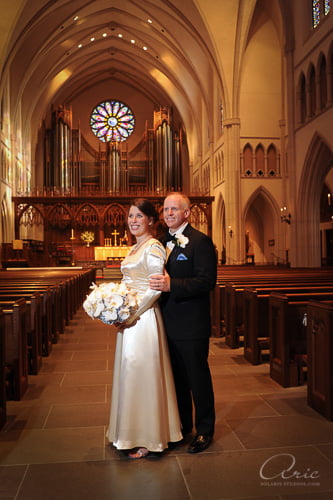 Many magazines will give you some good advice on this, but it is my opinion that many are wrong.
The norm is to advise to discuss all your details at the consultation, where I believe it is beneficial to provide as much information as you can in your initial email. Make it clear what you would like delivered as a final product and how much labor will be required. Provide this information in your initial email and the photographer can better prepare and give you a firm quote before your consultation.
Imagine how helpful it will be in your decision making process if you inform the photographer before your consultation where your wedding and reception will be held, and then asked the photographer to bring images from their portfolio of these facilities for your review during your consultation.
Many ask for pricing or a quote in their first contact. Keep in mind the photographer is thinking in two simple terms; the labor required and the products they will be producing and delivering. Provide the following information, and the photographer should be able to provide you with the quote you have requested.
Provide your wedding date.
Will you want an Engagement Session?
Will you want a Bridal Session?
Would you like Enlargements from your Bridal and/or Engagement Sessions to display at your reception?
Do you need Save The Date Cards?
How many people will attend your wedding and reception?
Provide your ceremony and reception locations.
Providing your ceremony start time an reception end time will tell the photographer how many hours of labor will be required.
You will also need to communicate what products would you like delivered from your wedding photographer after your wedding has concluded. I have provided a standard list of common product below.
A Wedding Album
Parent Albums
Guest Book
High resolution jpgs of your wedding day images which you may print from freely.
An Online Gallery of your wedding day images.
A Black and White images of your wedding day.
Thank you cards created with images from your wedding day.
A complete set of 4×6 prints from your wedding in a nice display box.
Some wedding photographers, like myself, create custom quotes as opposed to offering pre-formatted packages. This creates a much more personalized service and experience based upon the couple's individual needs.
Try to educate yourself further before your consultation. Ask the photographer to provide links to their blog entries which show images of your wedding or reception facility.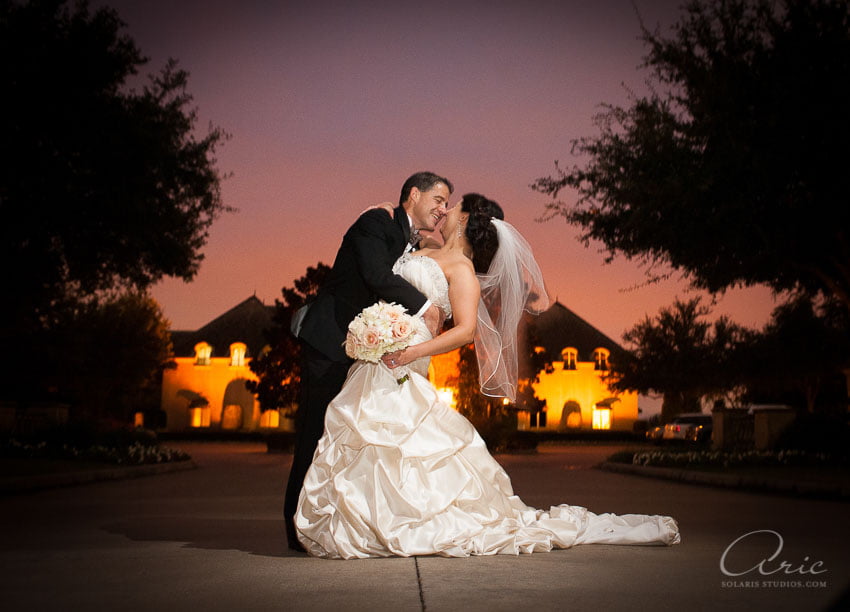 Ask the photographer if they offer multiple wedding album sizes. You may be able to save money if a photographer offers three different size wedding albums. And if multiple sizes are offered, ask the photographer to be prepared to show you examples of each during your consultation.
Back To Top Schedule A Consultation Contact
---
---
10 Great Questions To Ask Wedding Photographers
Here are some good question to ask during your consultation which should expose the photographer's experience and passion:
When did you photograph your first wedding?
Have you won any awards for your artwork?
How often do you compete with your artwork?
Have you ever competed nationally with your photography?
Do you belong to any professional organizations?
Do you or have you sat on the board of directors for any of these organizations?
Tell me about the most amazing wedding you ever photographed.
What do you like photographing most, Bridals, Engagements or Weddings? Why?
What is your favorite product you deliver to your clients?
Who is your mentor?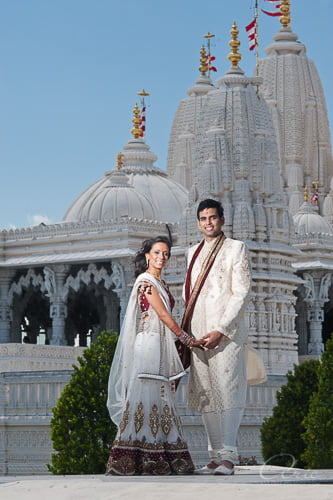 Questions like these will expose the passion of the individual far more than questions like, "Do you carry back up equipment?".
Do yourself a favor and visit the photographer's FAQs page before your consultation.
All these things can be learned before hand and will only be a waste of time if discussed during your consultation. Of course feel free to clarify anything which you feel was not properly described on their FAQ Page. You might even want to briefly bring something up from their FAQ page during your consultation just to show the photographer that you have already begun to educate yourself with their individual policies.
Remember, you're in control. At the end of your consultation, make sure to go home and mull things over. There is really no need to reserve the photographers services right then and there unless you really desire to.
Try not to only focus on the here and now. Instead, think five years into the future, ten years, twenty years. Will you feel regret every time you open your wedding album because you didn't reserve your first choice for a wedding photographer?
Back To Top Schedule A Consultation Contact
---
---
Bridal & Engagement Portraits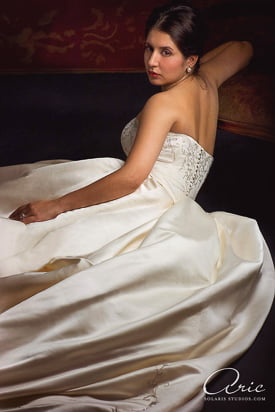 Your Bridal Portrait
The lace on a woman's wrist is an entirely different thing from lace in a shop. In the shop it is a piece of workmanship, on her it is the accentuation of her gentleness of character and refinement." – Robert Henri, The Art Spirit
While in no way mandatory, your Bridal Session is so very important for a few key reasons.
You want to look your best on your wedding day, so think of your Bridal Session as a trial run. This is your opportunity to see what you are going to actually look like on the day of your wedding. Have your hair and makeup done exactly as you imagine it for the day of your wedding. Have your florist create your bridal bouquet exactly as you imagine it on your wedding day.
Second, this is an opportunity to be in front of the camera, and every chance you have to be with your photographer before your wedding will help you to build confidence being in front of their camera. Being photographed for the first time by your photographer on the day of your wedding may leave you with less than ideal results as you may find you have a look of apprehension on your face in the resulting photographs.
When should you schedule your Bridal Session? As soon as possible! Don't wait until the last minute. If your dress gets dirty during your photography session, then you want to make sure you will have plenty of time to have your gown professionally cleaned and back in your possession far in advance of your wedding date.>/p>
Your Engagement Portrait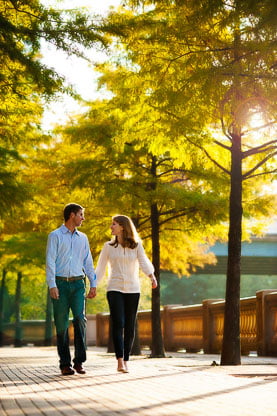 Your Engagement Session is possibly even more important than your Bridal Session as both you and your significant other will have time in front of the camera, making both of you more comfortable with your photographer.
Have your session somewhere that represents who you are. Think about where you would like to hang your finished Engagement Portrait in your home, as this will give you an idea if you would like the portrait to be more formal or casual.
Schedule your Engagement Session far enough in advance to have Save The Date Cards produced using the images from your Engagement Session.
Consider time of year when you schedule your Engagement Session. In Houston for example, March is a great month to schedule your Engagement Sessions as the city is filled with beautiful azaleas which are in bloom. Or, think of having your Engagement Session scheduled for the month of October so you can give finished portraits as holiday gifts to family members.
Think about how you will be displaying your Bridal and/or Engagement Portraits at the entrance to your reception. I will be going over some ideas for you on this a bit later in Chapter 5, Wedding Day Photography Tips.
Back To Top Schedule A Consultation Contact
---
---
View A Completed Wedding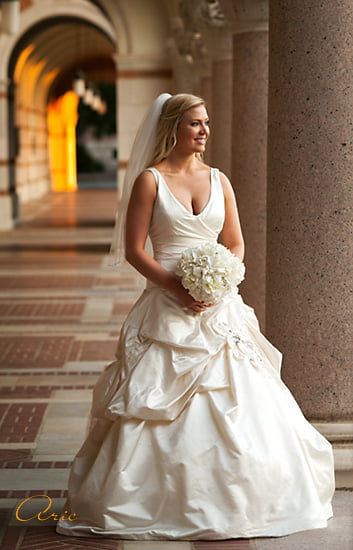 More than likely you've visited quite a few websites in your quest to find the perfect photographer for your wedding. While looking at all those sites you may have come to the conclusion that the photographer is only showing you the best images from any particular wedding.
It's my opinion you need to see some entire weddings, and not just a few select images. To that end I've placed over 15 completed wedding albums online for you to view.
These wedding album designs will show you our work from the beginning to end of our weddings, and these are actual custom designs which we delivered to our clients.
Even with a wedding album design you're still only seeing the images which my customers have deemed the best images from their weddings.
Take a look at one of my couple's online wedding galleries. This will show you every single image which we delivered to my client. These images and online galley were delivered in less than six weeks after their wedding date.
Back To Top Schedule A Consultation Contact
---
---
Customer Reviews & Testimonials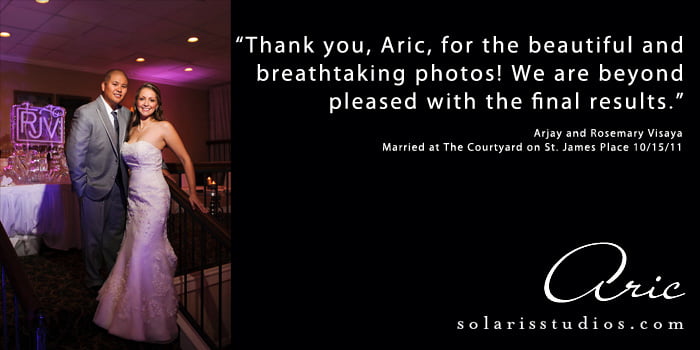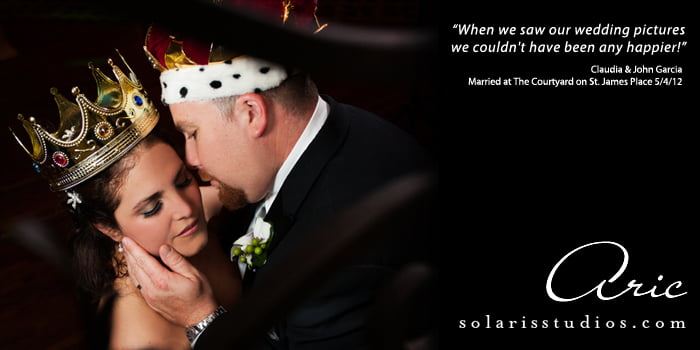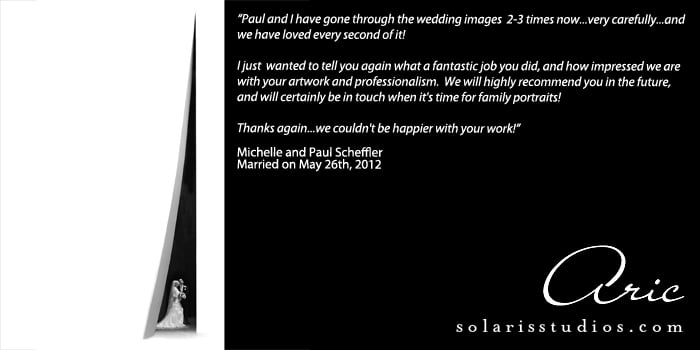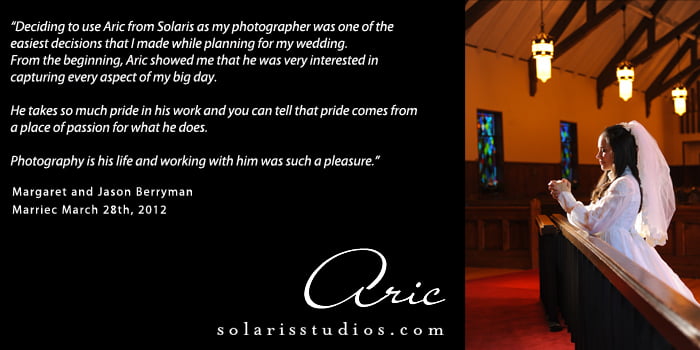 I bet we're all a bit suspicious when reading customer reviews on a company's website. Whose to say the company didn't just make up the reviews?
Please click the buttons below to read authentic customer reviews left both on Google and Wedding Wire.
Google Reviews Wedding Wire Reviews
Back To Top Schedule A Consultation Contact
---
---
The Best Money Saving Tip When Planning A Wedding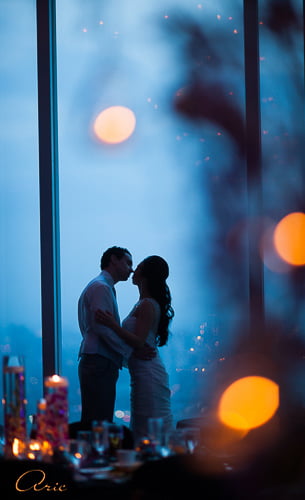 First, make sure to read this particular section all the way through. At first the idea seems a bit obvious, but I discuss how you can use this idea with all of your wedding vendors.
Most couples reserve their wedding photographer's services a good year before their wedding date. Take advantage of this by keeping your initial purchase low as there should be many opportunities to add items back onto your photography package between the time you make your reservation and the time of your wedding day.
For instance, how much would you save if you removed a wedding album from your package, or simply chose a smaller package?
Explain to the photographer, after all of your consultations and research, you wish to reserve their services. However in order to do so you wish to remove the wedding album from your current quote, and wish to know if you can add the album back into your package at a later date for the same amount you will now be saving. The photographer will more than likely say yes to this as they wish to receive your business, but be prepared for a counter offer stating the album can be added back for the same price if done so before the date of your wedding. Many photographers package things together and offer a discount based upon the size of the package. Purchasing things outside of a package will normally mean you are going to pay A La Carte prices.
Leveraging time this way will allow you to spread out the cost of your wedding photography package making it more manageable to get exactly wht you want, and there is an additional added benefit.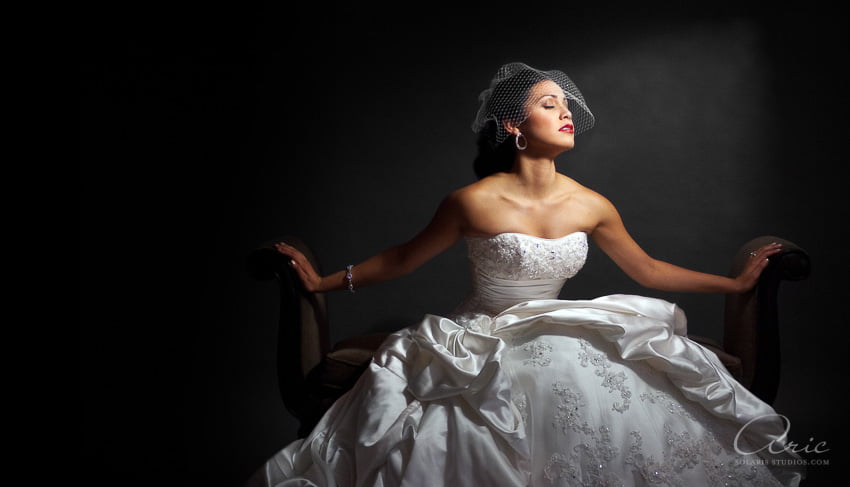 By lowering the amount of the retainer, you not only save money but you also minimize your liability. Most wedding professionals, including myself, require a non-refundable 50% retainer to reserve their services for your wedding date. Once a retainer has been paid, I will no longer consult with future inquiries for the time and date reserved, which means I will be passing on potential business and referring my friends. For this reason all retainers are nonrefundable, even if the date of the wedding is changed or the wedding is canceled for any reason, so you can see how minimizing your liability is a good thing.
Think of this. If you decided to leverage time with all your chosen vendors, then you could surround yourself with all your top choices, and as your wedding date approaches you can reevaluate your budget to include more photography, or perhaps more flowers from your florist, or even possibly upgrading the wine being served at your reception.
Giving your florist enough notice, do you think he/she would turn down your request to add more flowers to your event? Do you think a baker would turn down your request for a bigger cake? A good photographer will always want to sell you more photographs, and a professional photographer will be able to do this even after your wedding date.
The goal is to surround yourself with the finest vendors you can find on your wedding day so things will go as smoothly as possible for you. The sooner you reserve the services of these yet unknown companies, the more time you will have to leverage and upgrade the services of your chosen vendors before your wedding date arrives.
Back To Top Schedule A Consultation Contact
---
---
Amazing Digital Retouching Skills
To get the full effect, you should watch these movies in full screen mode.
<
Back To Top Schedule A Consultation Contact
---
---