The Bride's Path to Perfect Wedding Photography
by Aric C. Hoek, BFA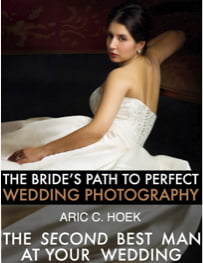 A short read filled with great real world advice on things you can do to ensure you receive the best images from your wedding photographer.
Simple advice on how to keep on, or even below budget for your wedding photography, which can then be applied to some of your other wedding vendors as well.
Things you can do to make sure your formal family group portraits look their best.
Ten great, real world questions to ask your perspective wedding photographer designed to show you the true passion of the photographer.
Things you can do to get the perfect departure shot.
What to communicate in your first email.
Chapter 6 contains 23 must read wedding photography tips!