If you're planning a wedding in Houston, then at some point you're going to hear of The Parador. Registered as a Houston Historical Landmark, The Parador is located in Houston's Museum District.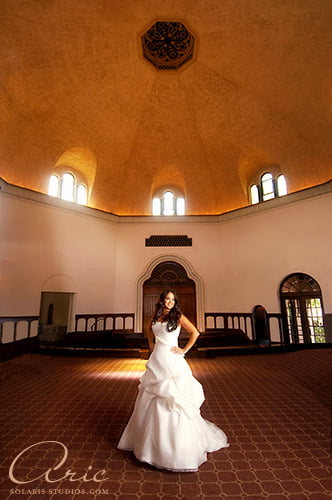 When you first walk in the front doors you find yourself in a large room with an amazing gold dome ceiling. In the far corner, a beautiful elevated wooden stage, perfect for your band or DJ to set up on. In front of the stage is your dance floor made from the same wood as the stage.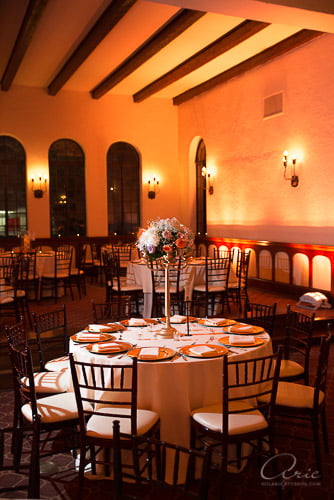 Surrounding the dance floor you find seating for your guests. But, look closely and you'll notice something. The seating area is tiered. It reminds me of rice fields on a hill side, and it's really a very smart idea. You see, whoever designed that room knew the people in the back of the room would need to be slightly elevated in order to see the dance floor and stage. There's not a bad seat in the house.
Adjoining the main hall, called The Duomo, you'll find a side chamber perfect for cocktail hours, or a set up area for a buffet. The room is surrounded with beautiful windows and the same beautiful wood seen in the main hall.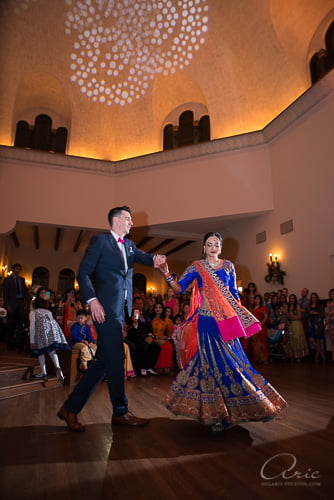 Locate the Library and Vestibule on the floor plan. I love shooting in those two areas and examples will be posted in one of the pages of this blog entry.
Another benefit the Parador offers is the ability to hold an outdoor wedding. You see, their floor plan is a bit deceiving. Outside the Library you'll find a huge courtyard accentuated with towering cypress, and a beautiful fountain. The row of cypress act as the backdrop for your wedding, and at the other end sits the fountain. Both the cypress and the fountain balance each other out, and you feel as if you are in an outdoor chapel. And if the weather turns bud, no worries. You can move things inside. It makes The Parador a beautiful location for an outdoor wedding.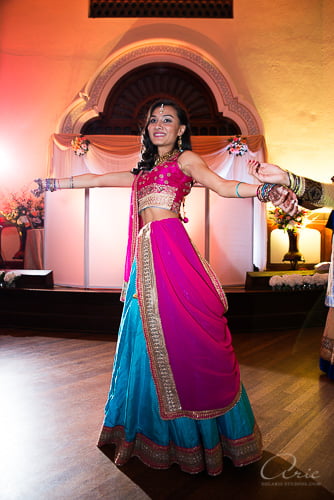 The Bride's Ready Room is another benefit The Parador offers. It's not located on the floor plan I linked to above as it is actually it's own free standing building. Yes, the bride get's her own private building to get ready in, as it should be. It's located just to the side of the courtyard, perfectly positioned for her to walk out and make the perfect entrance to her outdoor wedding.
There are other benefits The Parador has to offer, but I'd rather just show you. Head onto page two and beyond to see the images.